Skip Bin Hire
You can count on Cairns Express Skips for all your residential and commercial waste removal needs. We supply skip bins for hire in a wide range of sizes that will suit all types of clean-ups, from small domestic yard clean-ups to commercial waste removal.
Our services include: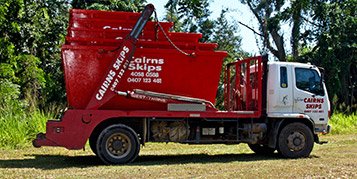 Same Day or 24 Hour Delivery*
Building Waste
General Waste
Asbestos Removal and Disposal
*Subject to availability.
Bin Loading Tips
Get the most out of your skip bin
When loading old refrigerators, dryers or other large home appliances, utilise the most of these by placing waste in them to maximise space in the skip bin
By breaking up your waste into small pieces if possible, you can get more! Things like old furniture can usually be broken up quite easily.
Try to leave as little air in the bin by stacking carefully, if you just throw stuff in without trying to leave space between rubbish the bin will not take as much waste as it could.
Select the correct size bin, just measure or estimate your waste pile and try our bin size calculator
Vegetation Loading Tips
Maximising your cubic metres with loading your vegetation into the skip bin, the smaller it is shortened or cut down to more manageable pieces you will ideally have more space in the skip bin
IMPORTANT NOTICE TO ALL SKIP BIN HIRERS
It is illegal to transport a waste container loaded beyond its dimensional limits. That means you cannot fill the skip bin above the "water line" which is the top rim of the skip bin. Large fines are applicable, as well as demerit points against drivers licence if a truck is pulled up by the police or Department of Transport and Main Roads.
Whilst tarpaulins are used to prevent material escaping during transit they have no structural integrity (legal or actual) thus they are not strong enough to prevent heavier debris from dislodging.
Safety
To ensure the safety of yourself and our operators, there are a number of safety guidelines that you must follow:
Bin Capacity

Our Skip Bins must be filled to the height of the side wall, NO higher. All waste must be contained WITHIN the bin. Bins have a MAXIMUM lifting capacity of 7 tonne.

Weight Distribution

Make sure you load our skip bins evenly so it won't tip when lifted. Load the heaviest items at the base of the skip bin and place lighter items on top.

Bin Contents

Under NO circumstances should you place dangerous goods in the bin. These include: asbestos, chemicals, liquid waste, oil, paint, gas bottles, tyres and batteries.